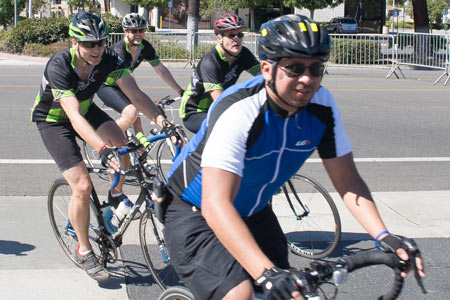 New Start Time – 8:30! For those cyclists who are even more enthusiastic, the 50 mile route is sure to up the challenge. This  route has 1,774 total feet of climbing and includes an optional KOM/QOM challenge (1,557 feet without the KOM/QOM segment).  This ride is for those that have some miles on their bikes but who don't want to jump into the triple digit route…yet.
What you get with your ride:
Pro-Style Mass Start for All Distances
2 Fully Stocked Rest Stops
Clothing Drops @ Rest Stops
Event T-Shirt with pre-registration (by 9/30)
Separately Timed KOM/QOM Segment with optional cut-off for less elevation
Separately Timed Time Trial Segment
Post Event: Beer Garden with complimentary Beer ticket, Vendors Expo, and Entertainment
The 50 mile route hits the road at 8:30am. In a mass start, accompanied by the Riverside Police Department, riders roll out to the route. The route travels down Historic Victoria Avenue, the Santa Ana River Trail, Box Springs Mountain Reserve, UCR, and Sycamore Canyon Park.  From last year we have the Time Trial Segment and IMPROVED FROM LAST YEAR…the  KOM/QOM Segment. Not interested in the KOM/QOM? Take the cut-off and skip that climb.  Two fully stocked rest stops make sure riders refuel and stay hydrated.