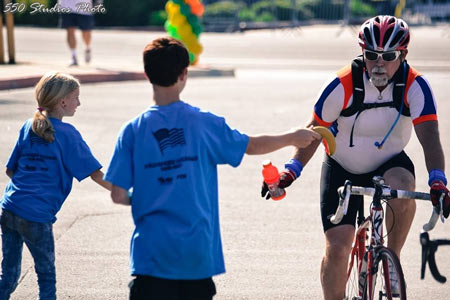 Ready for a little more time in the saddle? Start time is at 9am for the 30-mile course, an exciting and do-able course for any rider. Ride by citrus groves along historic Victoria Avenue and finish up along the Santa Ana River trail.
What you get with your ride:
Pro-Style Mass Start for All Distances
Fully Stocked Rest Stop
Clothing Drops @ Rest Stop
Event T-Shirt with pre-registration (before 9/23/2023)
Post Event: Vendors Expo and Entertainment (due to circumstances beyond our control we will not be able to offer a beer garden this year)
The 30-mile route rolls out at 9am in a mass start. Accompanied by the RPD, riders leave from the Riverside Plaza Arch facing Riverside Avenue. Riding along historic Victoria Avenue and the Santa Ana River Trail, this ride is mostly flat. With a fully stocked rest stop, riders can stay hydrated and grab a snack.
Registration Form (on-site registration)