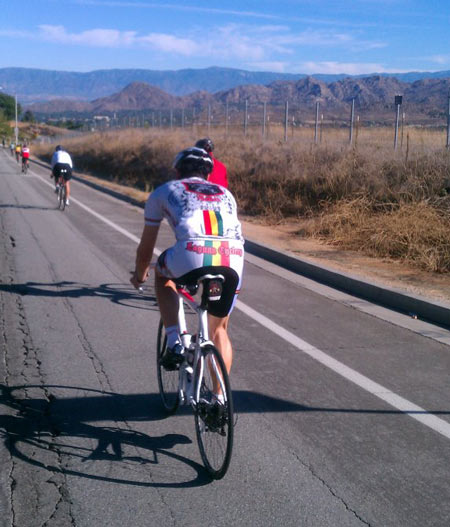 Ready for a challenge?  Start out at 6:30am for the 100 mile ride with 5,165 total feet of climbing. Riders receive full SAG support and 4 fully stocked rest stops to keep you fueled up and hydrated. This route includes views of Mt. Baldy, orange groves, and Historic Redlands.
What you get with your ride:
Pro-Style Mass Start for All Distances
4 Fully Stocked Rest Stops
Clothing Drops @ Rest Stops
On-Course SAG Support
Event T-Shirt with pre-registration (before 9/23/2023)
Post Event: Vendors Expo and Entertainment (due to circumstances beyond our control we can not offer a beer garden this year)
The 100-mile riders roll out at 6:30am in a mass start accompanied by RPD. While riding, you pass Sycamore Canyon Park, Box Springs Mountain, Historic Redlands, Lake Perris, Historic Victoria Ave, and the Santa Ana River Trail. Four fully stocked rest stops keep you hydrated and fueled up. SAG support makes sure you don't get stranded.
Registration Form (on-site registration)
Download the 100 Mile Map (Updated 10/4/22 – Subject to changes including route and rest stops)